The BN6000 time clock from uAttend is part of the most cost-effective time and attendance system available anywhere.
FREE Shipping!
This state-of-the-art time clock connects effortlessly to any network and transmits all data to the Internet, allowing you to perform time and attendance functions from any computer with Internet access. The system allows employees to punch in or punch out from the BN6000, from a computer, a smart phone app, or from a telephone.
Plug n' Play—Internet ready
Biometric: Fingerprint
5,000 Users
Unlimited Departments
Department Transfers
Check Hours Worked During Pay Period from Clock
Employee Time Off Request from Clock
Job Tracking
Employee Expense Reporting from Clock
Large Color Display
Display Your Company Logo on Screen
Voice Response
Integrates with all Popular Payroll Software
Robust Time and Attendance Reports and Functions
Web-based—No Software to Install or Maintain
FREE Lifetime Support*
FREE Lifetime Replacements*
*In-Stock - Ships Immediately
*Requires Active uAttend Subscription.

The uAttend Employee Management System is simple to set up and easy to use.

What's In The Box?
BN6000 time clock
6-foot Ethernet cable
AC power adapter
Printed, fully illustrated product manual
Wall-mounting bracket
Web-Based Software:
The Employee Management System combines Internet ready devices with powerful web-based software in order to give you the flexibility and accuracy you need to manage your employee's time and attendance. More information on Software
How it Works
Built for a Small Business with the features of a Professional Version.

Unlike a traditional time clock that is tethered to a computer and client based software,uAttend uses cloud computing to allow business owners the flexibility of doing time and attendance anywhere and any time. Additionally, the system allows extreme flexibility, letting employees "punch" in and out from a time clock, web-browser, or phone. Unlike other systems, all the punch data, no matter what the source, is aggregated online for easy editing and reconciliation. There is no need to network together different solutions for different employee types and access a single client based computer for time and attendance.
View your Company from 1 easy to manage Dashboard
Who's IN - Shows the percentage of employees IN, OUT, or Missed Punches. 24/7 supervison level ready at your convenience.
Who's IN/OUT, Who's IN, Who's OUT, and Missed Punches - Let our system manage your employees. Send alerts to employees via e-mails daily for quick reminders about your policy regarding coming in late. Start reducing the number of missing punches and have your employees punch in at the schedule times. Create Revision Zones to reduce overtime, Lock-Out Zones to eliminate punches when you don't want them (Short Lunches). No more worries on what type of transaction you have Time Clock Punch, Web Punch, Edited Punch, or Smart Phone Punch with the GPS locator (demonstrates the physical address of the transaction).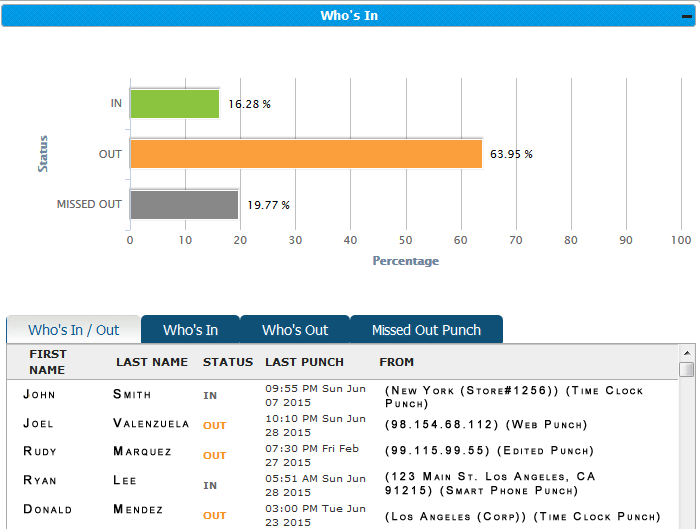 The system includes:
Unlimited Departments – Separate and segment employees any way you like!
Overtime – Weekly, Daily, and 7th Day Options
Revision Zones - Eliminate employees clocking in early and out late to earn OT
Lock Out Zones – Eliminate punches when you don't want them
Who's In Board – See your work force status in real time!
Punch Notifications – Get emails any time any employee punches
Accruals – Track vacation, sick, and other accruals
Punch Rounding – Select from several options
Automatic Lunch Deductions – Customizable for your requirements
Time Card Approvals – 3 levels of authority to use at your discretion
Email Time Cards to Employees – Daily, weekly, or once per pay period
Multiple Time Zones – Set time zones to the employee level
Automatic Break Additions – Stay in compliance with all paid break regulations
Holidays – Track holidays as paid and set pay codes based on working
Multiple Pay Period Options – Weekly, bi-weekly, semi-monthly, and monthly
View & Print Time Cards in Batches – Look at cards one at a time or in batches
Summary Reports – Data ready to be used for payroll
Reports – Run time reports by employee, department, or system wide
Exports – Dozens of payroll exports supported, including ADP®, Paychex®, and Quickbooks®
Self Service Online Help – Find the information you need, when you need it.
Much, much, more! – Online system means new features and upgrades are easily added to the system!
Our software is supported by our excellent customer service team that is available by phone or live chat M – F 6:00 AM – 5:00 PM Pacific.
Mobile App:
uAttend provides system users with free iPhone, iPad, and Android smartphone apps for employees, supervisors and administrators. The apps put these great features at your fingertips 24/7:
Employees - Punch in or out from any location (with geo-location tagging) or only authorized locations.
Employees - View their timecard 24/7.
Employees - Add notes to any punches.
Supervisors & Administrators - Do a "group punch" (punching multiple employees in and out with one click)
Supervisors & Administrators - View and / or edit an employee's timecard.
Supervisors & Administrators - Check the "Who's In" board, to see, in real-time, who is currently clocked in and out.
Administrators - Run a summary report and export data for payroll.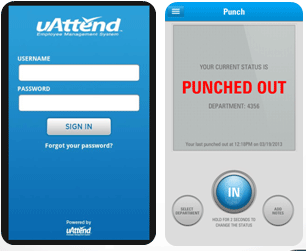 Our efficient Time Clock Solutions include hassle-free time clocks and top of the line time attendance software.
1-800-TIMECLOCKS gives you the advantage of comparing top manufacturers that suit your business' time and attendance needs. We provide unbiased products and services to match you with the most effective solution.
Our time clocks and software based time and attendance systems are designed with state of the art technology for the most efficient employee tracking in today's workplace. They are used in industrial, restaurant, manufacturing, hospital, military, government and retail market across the globe.
Do not hesitate to contact us if you have any questions.
You can reach us at 800-846-3256
Warranty Information
Lifetime warranty. Free unlimited time clock replacements.