Call us at 800-846-9378 to schedule a FREE demonstration today.
Web Time Clock Online Software
The Web Time Clock and Attendance System is the next leap forward in employee time tracking and time clock systems.This new software updates employee punches in real time, uses a wider variety of clock-in methods compared to competitors, and uses a cloud-based architecture to ensure the highest level of reliability and assurance for your business. In addition, the user interface for employees, supervisors, and administrators is straight forward, easy to use and easy to navigate. Click below to sign up for a subscription plan or view a free demonstration.
How it Works
Built for a Small Business with the features of a Professional Version.



Unlike a traditional time clock that is tethered to a computer and client based software, uses cloud computing to allow business owners the flexibility of doing time and attendance anywhere and any time. Additionally, the system allows extreme flexibility, letting employees "punch" in and out from a time clock, web-browser, or phone. Unlike other systems, all the punch data, no matter what the source, is aggregated online for easy editing and reconciliation. There is no need to network together different solutions for different employee types and access a single client based computer for time and attendance.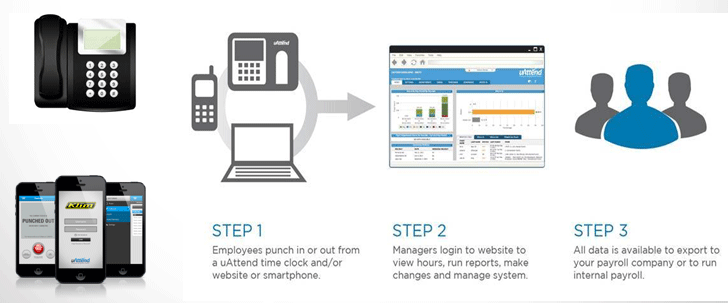 View your Company from 1 easy to manage Dashboard
Who's IN - Shows the percentage of employees IN, OUT, or Missed Punches. 24/7 supervison level ready at your convenience.
Who's IN/OUT, Who's IN, Who's OUT, and Missed Punches - Let our system manage your employees. Send alerts to employees via e-mails daily for quick reminders about your policy regarding coming in late. Start reducing the number of missing punches and have your employees punch in at the schedule times. Create Revision Zones to reduce overtime, Lock-Out Zones to eliminate punches when you don't want them (Short Lunches). No more worries on what type of transaction you have Time Clock Punch, Web Punch, Edited Punch, or Smart Phone Punch with the GPS locator (demonstrates the physical address of the transaction).
Top 5 Department Hours by Pay Code - Forecast the hours for your next pay period by department. Create a cost analysis by exporting the data to an informative Excel Spreadsheet. (Customize Programming is available)
Hours by Pay Period by Pay Code - Forecast the hours for your next pay period. No schedule adjustments are required if you approximate the same jobs. Create a cost analysis by exporting the data to an informative Excel Spreadsheet. (Customize Programming is available)
Upcoming Holidays - Know which days are working/non-working. Leave messages for employees on the web time clock.
Time Off Request - Never rely on your memory or lost time off sheets.
Why Web-Based
The Employee Management System was built to leverage the power of cloud computing for time and attendance tracking. Traditional time and attendance solutions fall short for most businesses as they do not provide real-time data when, where, and how the business administrator needs it!

The uAttend System is the first affordable system that leverages the power of cloud computing by combining low-cost web-based timeclocks with powerful software hosted in the cloud.
Access data in real-time from any computer with Internet access

Use a wide variety of time clocks from biometric time clocks to RFID time clocks

No need to install, maintain, or upgrade software

No expensive computers to purchase or maintain

Data is secured and stored for account lifetime

Manage multiple locations without networking computers or servers

Manage a varied workforce with clock punches, Smartphone app punches, and web punches all through one interface

Pay as you go – no expensive up-front equipment or set up fees

Receive real-time alerts to your email
System Features
The Employee Management System combines Internet ready devices with powerful web-based software in order to give you the flexibility and accuracy you need to manage your employee's time and attendance. Our software is supported by our excellent customer service team that is available by phone or live chat M – F 6:00 AM – 5:00 PM Pacific.
The System Includes:
Unlimited Departments – Separate and segment employees any way you like!
Overtime – Weekly, Daily, and 7th Day Options
Revision Zones - Eliminate employees clocking in early and out late to earn OT
Lock Out Zones – Eliminate punches when you don't want them
Who's In Board – See your work force status in real time!
Punch Notifications – Get emails any time any employee punches
Accruals – Track vacation, sick, and other accruals
Punch Rounding – Select from several options
Automatic Lunch Deductions – Customizable for your requirements
Time Card Approvals – 3 levels of authority to use at your discretion
Email Time Cards to Employees – Daily, weekly, or once per pay period
Multiple Time Zones – Set time zones to the employee level
Automatic Break Additions – Stay in compliance with all paid break regulations
Holidays – Track holidays as paid and set pay codes based on working
Multiple Pay Period Options – Weekly, bi-weekly, semi-monthly, and monthly
View & Print Time Cards in Batches – Look at cards one at a time or in batches
Summary Reports – Data ready to be used for payroll
Reports – Run time reports by employee, department, or system wide
Exports – Dozens of payroll exports supported, including ADP®, Paychex®, and Quickbooks®
Self Service Online Help – Find the information you need, when you need it.
Much, much, more! – Online system means new features and upgrades are easily added to the system!
IMPORTANT NOTICE:
EXTREMELY AFFORDABLE MONTHLY SUBSCRIPTION FEES ARE REQUIRED TO USE THE uAttend EMPLOYEE MANAGEMENT SYSTEMS. uAttend TIME CLOCKS WILL NOT FUNCTION WITHOUT A SUBSCRIPTION.
*No contract required.
Why Us?
Affordable time keeping software without excessive charges

Pay as you go – no expensive up-front equipment or set up fees

Seamlessly integrate work-hour data with current payroll accounting programs

FREE setup of your company

FREE Lifetime Support

FREE Lifetime Clock Replacement.

30 Day Money Back Guarantee!

NO Contracts (we are 100% sure you will be pleased)
Mobile Time Clock App for Free
Smart Phone Time Clock App for Employees
Punch in or out from any location (with geo-location tagging) or only authorized locations.

View their time card 24/7

Add notes to any punches

Transfer Departments

Review Benefit Balances

Request Time Off
Manage Tips
Manage Expenses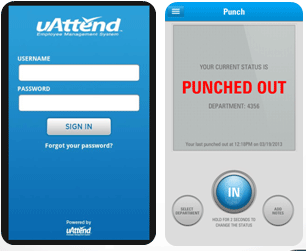 Smart Phone Time Clock App for Administrator/Supervisor
You are out of town or on a business meeting and you just need to know who is actually at work. You can stop wondering. This software has an "easy to manage" employees from your current smart phone.
Check the "Who's In" board, to see, in real-time, who is currently clocked in and out. (By Department/Location)

Do a "group punch" (punching multiple employees in and out with one click) - works great for construction, landscape, or outside services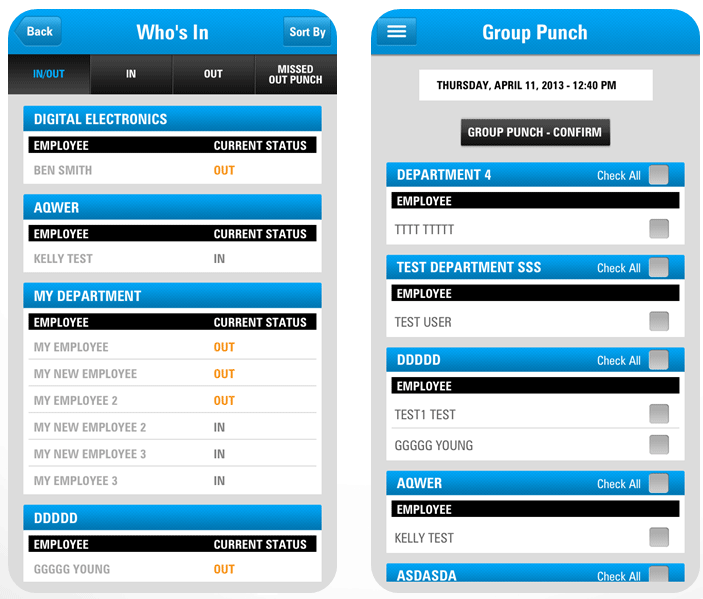 View and / or edit an employee's timecard with a few clicks.

Run a summary report and export data for payroll.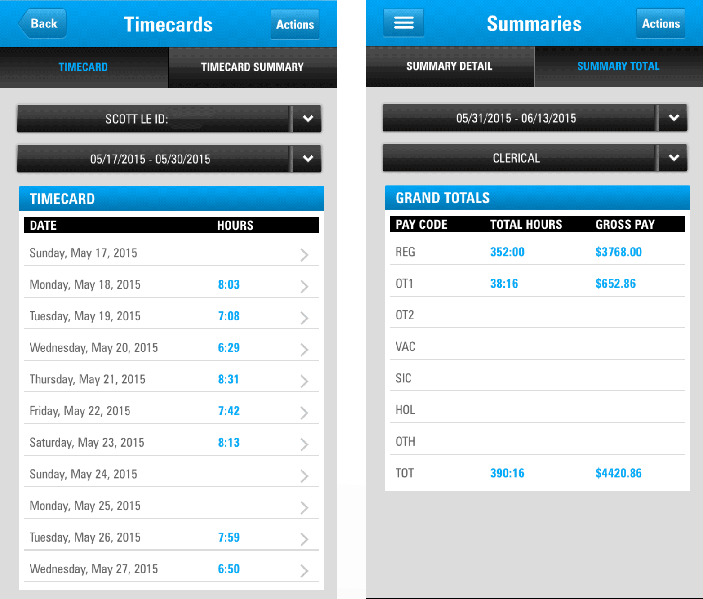 An Easy to Use Solution that will exceed your expectations.